One small action could
change a life
Our campaign, aims to spread awareness about the plight of cancer patients during this pandamic. Something as simple as wearing a mask can ensure that a patient of cancer gets a shot at quality treatment. It can slow down the spread of the virus, reduce the burden on hospitals and allow for the treatment of other life threatening diseases like cancer.
Karo's Intervention during
COVID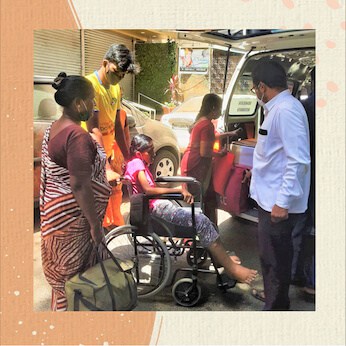 Transport Assistance
In partnership with Alyte Cabs, we provided free and safe travel assistance to our patients for their hospital visits.
Essentials and ration support
We extend financial support for monthly ration to patients and their families so all of their daily needs are met without difficulty.
Uninterrupted funding
Through the course of the pandemic, KARO continues to support new and existing patients by funding their treatment and extending help in every way possible.
Accommodation
KARO Home, our free accommodation centre has kept its doors open for those who need residence. The premises are also regularly disinfected and patients follow appropriate social distancing measures to maintain safety for all.
Continued Assistance
During this lockdown, KARO team members have stayed in constant touch with every Braveheart and also organized KARO Family Zoom sessions, where members receive tips on themes like nutrition, yoga, skincare and mental health.
Join Karo For the little things
Every donation, big or small, goes a long way in helping secure treatment for out patients.
We recognize that help can be even your precious time,
For us, every little thing counts.